Biggles on the white screen
Most recent plans: Biggles Films Ltd, with the English Pinewood Studios, has started a new project in 2003. We will keep you informed.

Earlier film plans and film:

1) International producer Hippo Films and UK Mudlark Productions intended to make the film "Biggles flies north", as the first of three Biggles films, meant for three successive years, starting 2001. Producers Peter Mackenzie, Glenn Murray and Neil Jones want to show the best of the last great English action hero Biggles, together with "working class boy" Ginger, Algy (as mechanic instead of Smythe), Bertie and -added to the story- Erich von Stalhein.
Beside this film, the next film to be shot was "Biggles in Borneo". Unfortunately, this project was cancelled.

2) The history of the film "Biggles" from 1985
As early as 1968 World Film Services planned on making a Biggles film, featuring James Fox as Biggles. Publicity pictures were in 1969 in circulation already with Fox in RFC-uniform next to a special Sopwith Camel copy, but the project was abandoned.
In 1975 Kent Walwin and Peter James got an idea to make a movie about the very British hero James Bigglesworth. Many people felt is was silly that this never happened before, especially since that other British hero, James Bond, did become a movie star, while featuring in far less books, having less experience and many more women in comparison to Biggles, who presumably focused his attention on his job! On top of that James Bond sort of turned out as being "sold out" to the Americans and could hardly be considered real British anymore. So a new, typical English hero was a necessity. And who was more suitable than the well-known Biggles? The Biggles film story had to be new and modern and yet leave the popular book hero undamaged.
Financing of the project finally established, the actual start was in 1984. The producers were convinced that the name "Biggles" made the impossible possible: for instance the helicopter and Camel stunts with Tower Bridge would never been approved by the authorities at all.
The film has been released on video in several countries, such as The Netherlands, Germany, Sweden, Great-Britain, the United States of America and Russia.


| | | | |
| --- | --- | --- | --- |
| | | | |
| Germany | the Netherlands | Russia | Great-Britain |

Story

In 1985 successful New York business man Jim Ferguson travels unexpectedly time and ends up at the Western Front in 1917 France. It turns out he has been sent to rescue his "time twin" Biggles, who crashed his double-decker, and to help him find and destroy the German Secret Weapon, which could change the outcome of World War I. Together with Algy, Bertie and Ginger, Biggles and Jim, supported by their respective girlfriends Marie and Debbie and Colonel Raymond of course, succeed in their mission, although Erich von Stalhein puts in a lot of resistance!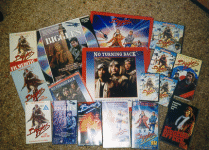 Cast

Biggles - Neil Dickson
Jim - Alex Hyde-White
Algy - Michael Siberry
Bertie - James Saxon
Ginger - Daniel Flynn
Raymond - Peter Cushing
Marie - Francesca Gonshaw
Debbie - Fiona Hutchison
Von Stalhein - Marcus Gilbert

About the film

"Biggles" - a film by Compact Yellowbill with Tambarle Productions
Script - Kent Walwin and John Grovers
Producers - Adrian Scrope, Kent Walwin and Pom Oliver
Director - John Hough
Music - Stanislas Syrewicz

A DVD version of this film was issued in 2003. This DVD is for sale for 10 euro at the I.B.A. Online Shop.

A book edition of the film was published in 1985, titled "Biggles, the movie" with Hodder & Stoughton, London, in 1985.





Some images from the movie "Biggles".

For further details please see the Captain W.E. Johns Catalogus.


---
Copyright © the International BIGGLES Association. All rights reserved.
P.O. Box 16, 1760 AA Anna Paulowna, The Netherlands.
If you have any comments or questions, please send an e-mail to info@biggles.nl.
In case of technical problems, please send an e-mail to webmaster@biggles.nl.