Worrals
As from October 1940 Biggles has a female colleague! Because it is 'all hands on deck' for the RAF at the outbreak of World War II, the air force decides to recruit female as well as male war pilots. So there is a need for war flying propaganda aimed at young, adventurous women. Because the popularity of Johns' fighter pilot Biggles in the thirties had not escaped the attention of the British Ministry of War, this organization called upon Johns to create a female war pilot as well. This is how Worrals was 'born'.

Flight officer Joan Worralson, then just 18, flies her first flight for the W.A.A.F., the Women's Auxiliary Air Force, the 'women's section' of the RAF, between October 1940 and September 1941 in Girl's Own Paper (hereafter GOP), assisted by her slightly younger colleague and best friend Betty Lovell, nicknamed Frecks. In this first adventure (Worrals of the W.A.A.F.S.) the girls track down a group of German spies in Surrey who pass on information to the German Air Force about targets to be bombed in England. The story is just as exciting and fast-paced as the best Biggles books and turns out to be great propaganda as well: published in 1941 as a book (Worrals of the W.A.A.F.), it was reprinted three times in 1942, and the W.A.A.F. could hardly manage the great rush of trainee pilots! Hopefully, the new recruits were not too disappointed when it turned out that they were never to fly as fighter pilots... Although Worrals flies a fighter plane in her first adventure - doing so with the same cool-headed skill as Biggles, she even shoots an enemy aircraft - actually, only RAF men flew as fighter pilots, while women were at best allowed to do transport missions. Yet, in her next adventures Worrals demonstrates that she is also quite capable of holding her ground without a fighter plane. At this point we hit the thread that runs through all Worrals books: Worrals is a resolute and courageous woman, a forerunner of feminism, who, particularly when she feels discriminated for being a woman, dares to put people in their place, even her superiors - including, by the way, Colonel, later Commodore Raymond!

Johns recorded seven war and seven post-war adventures of Worrals and Frecks. The latter take the girls on missions all over the world, on their own initiative, or by order of Scotland Yard, for following the example of Biggles & Co., Worrals and Frecks accept several government assignments during the post-war period. Given their enthusiasm, courage, skill and young age, Worrals and Frecks have undoubtedly been active for many years more, but, alas, we will never know because Johns, besides his efforts to report the fortunes of Biggles and his friends, is no longer able to record Worrals' and Frecks' adventures as well...

Unfortunately for the Dutch readers, the Worrals books were never translated into Dutch. Only two short stories were published by the International Biggles Association in editions including the original English text as well as a Dutch translation.
[Text: Tineke Sommeling]
New: IndieBooks reprinted the first three Worrals books. Read a review of Worrals flies again.
Worrals of the WAAF, Worrals carries on and Worrals flies again are available with the I.B.A. for €13,95 each (excluding postage). Please send an e-mail to the I.B.A. Online Shop to order.
The 11 books:

1. Worrals of the W.A.A.F. - September 1941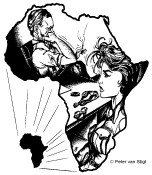 2. Worrals flies again - September 1942
3. Worrals carries on - October 1942
4. Worrals on the war-path - July 1943
5. Worrals goes east - May 1944
6. Worrals of the islands - October 1945
7. Worrals in the wilds - November 1947
8. Worrals down under - 1948
9. Worrals goes afoot - September 1949
10. Worrals in the wastelands - 1949
11. Worrals investigates - 1950



From "Worrals works it out" - I.B.A. (1998).



The three short stories:

* Worrals takes a hand (Children's Gift Book, Odhams Press, 1946)
NL (+E): Worrals lost het op (I.B.A., 1993)

* On the home front (Comrades in arms, Hodder and Stoughton, 1947)

* Worrals works it out (Girl's Own Paper, September 1947)
NL (+E): Worrals grijpt in (I.B.A., 1998)

The I.B.A. Publishing Company has published two of these short stories in the Uncollected Stories Series.

Details on these titles can be found in the Captain W.E. Johns Catalogus.


---
Copyright © the International BIGGLES Association. All rights reserved.
P.O. Box 16, 1760 AA Anna Paulowna, The Netherlands.
If you have any comments or questions, please send an e-mail to info@biggles.nl.
In case of technical problems, please send an e-mail to webmaster@biggles.nl.